ASPDNSF's 2012 eCommerce Conference

Beacon returned from ASPDotNetStorefront's user conference with a ton of great takeaways, new friendships, stregnthened partnerships and awesome experiences.  Ashland, Oregon's amazing scenery, great restaurants, friendly people and downtown park rival the eTail West conference in Palm Dessert for the best eCommerce conference destination.
The conference kicked off with a welcome reception and continued full steam ahead through two full days of sessions.  Between Mike Wood (Sr. Engineer), Tracy Dirks (Dir. of Software Development) and I, Beacon had all tracks and the exhibit hall covered.  It was a great conference, we had the opportunity to get the inside scoop on the product roadmap, hear first hand insights from the consumer panel, pick the brains of APDNSF's talented developers, discuss innovative uses of the platform with merchants and fellow partners.  It was action packed and a whole lot of fun.  Between the full days and long travels, I think I am just now recovered.
As an aside, I stayed an extra day to check out the awesome sites of southern Oregon and was lucky enough to catch Crater Lake on such a picture perfect afternoon.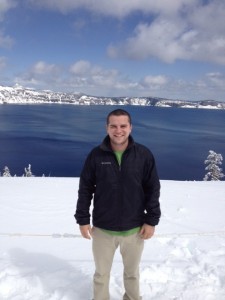 Keep an eye out for Beacon as we prepare for two conferences during the month of April: The Bronto Summit and NCTA's State of Technology.