Free Social Media Vector Icon Set (including pinterest and google plus!)

First I would like to say I am a Web Developer here at Beacon so Design is not my specialty. However, I've gradually been getting annoyed by the round corners that are on most social icons. I think there is always the 'too much' factor and for me I've been given too much round icons. So the only thing that looks fresh and appealing to me anymore is square. I've looked at other free icon sets out there and still have yet to find a basic and simple square set. So I decided to give it a shot :).
All these icons are vectors I created within Adobe Fireworks CS4. For most of these I used the method mentioned in this post (http://trentrichardson.com/2009/04/11/convert-bitmaps-to-vectors-in-fireworks/) and others I copied the company provided vector into fireworks and modified from there. Feel free to download and do what you'd like with them. I have them all within one file for ease of creating/posting but again each is its own vector so you can copy it into another document or slice them out from the file.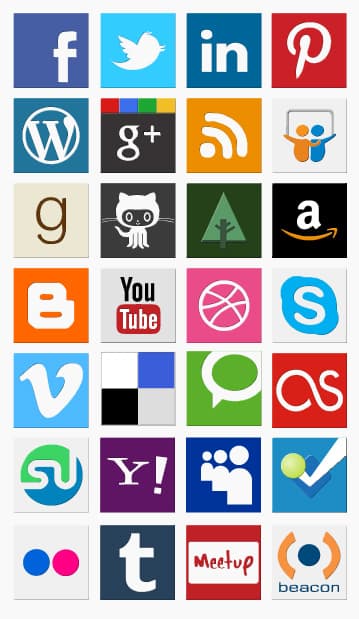 This Vector set includes:
Facebook
Twitter
LinkedIn
Pinterest
WordPress
Google +1
RSS
SlideShare
Goodreads
GitHub
Forrst
Amazon
Blogger
YouTube
Dribbble
Skype
Vimeo
Delicious
Technorati
Last.fm
StumbleUpon
Yahoo!
MySpace
Foursquare
Flickr
Tumblr
Meetup