Panda devalues anchor text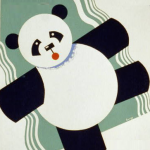 A little over a year ago, Panda made its debut. The debut was not soon after it was revealed that AOL was prepping to add massive waves of content. A content farm to end all content farms.  Panda put a stop to that.
Another scandal that erupted just prior to the Panda launch was the J.C. Penny paid link fiasco.  The NY Times wrote the headline - The Dirty Little Secrets of Search.
There was speculation as to how Panda may handle that.
As a prelude,  the first anchor text action was an end to anchor text boilerplate repetition.  And now the second wave has hit.  An end to exact keyword matching in anchor text.
There were predictions early on and later some indications that exact match anchor text was going to be a casualty.
With Panda 3.3, exact match anchor text no longer carries the weight it once used too.
There was always the knowledge that varying anchor text and using descriptive phrases in the anchor text was a good thing.
Google could detect indications when a growing link profile was unnatural.
In Google patent - Document Scoring Based on Link-Based Criteria :
"[0114] This indication may be strengthened if the growth corresponds to anchor text that is unusually coherent or discordant.  This information can be used to demote the impact of such links.
So ongoing, some techniques to follow with your link strategy:
Try to build a natural link profile and avoid using exact match at least initially.
Instead of exact match, utilize synonyms and phrases instead
Incorporate your brand name along with the anchor text