eWBoard - The Electronic Whiteboard Site Launch
We launched another great site last month for eWboard at http://www.ewboard.com! This site is a highly effective promotional site for IBS's newest patient tracking software, The Electronic Whiteboard. The Electronic Whiteboard, a sister company of CardioPulse, is a easy, interactive, unified, static, resource management tool that provides true interoperability.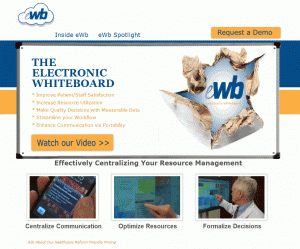 Thanks to the project management and development team for turning around another wonderful website so quickly without issue!