United Way Week at Beacon

It's been a fun week here at Beacon as the entire team has stepped up to raise money for the United Way.  It's great to see everyone participating in the various activities to give back to the community.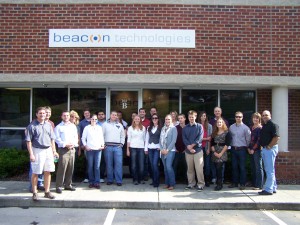 We kicked off United Way Week on Monday with a couple of guest speakers from the United Way along with a short video that showed exactly how the money we raise goes to help people in Greensboro area.   We also created 5 teams of employees that are competing against each other during the week.  Of course the teams came up with interesting team names and the trash talking began pretty quickly – all in good fun.  Team names were
We'll Kick Your ISAPI,
Soup-A-Stars,
Occupy Beacon,
404 and
Gary and the Webonettes
The first event, which lasts all week, is Penny Wars (coins are positive, bills are negative).  Each team has a jar in the lobby for anyone to put coins or bills into.  Today is the last day for this event and I expect it will get crazy as the clock nears the 5pm deadline.  All of the money for this event goes to United Way.
On Wednesday, we had our Team Competition and brought in lunch.  It was a series of 6 events
Bean Bag Toss
Hall Bowling
Beer Pong (w/o the Beer!)
Balloon Pop (hilarious!)
Putting (harder than it looked!)
Tailgate Golf (outside)
Each Team accumulated points for each event.  Final results after Wed showed that every team is within striking distance to win the overall competition, so it comes down to the Penny Wars.
On Thursday, we had a silent auction for home made baked goods – dinners, desserts, snacks.  Great participation and personally, I wanted to have a bite of everything!  Very tasty and unique items were brought in.  All the proceeds go to the United Way.
Lastly, we have a 50/50 Coin Drop where individuals can drop coins into a water-filled jug into a shot glass.  Coins count for face value (quarter = 25 points; penny = 1 pt).  Whoever has the most points at the end of the week gets half the money in the jug; the other half goes to the United Way.  Again, the race is close and I expect coins to be dropping right up until 5pm today!
Although our primary objective was to raise money for the United Way, I believe we had a lot of fun and got to spend some "non-work" time together as a company.  Priceless.  Congrats to everyone on the Beacon Team for making United Way Week such a success… and special thanks to Suzanne Bugg who coordinated everything!