Beacon Completes More Projects

University of Houston News Releases
The University of Houston is a new Cascade Server client of ours.  The entire university's site is in Cascade, and they contracted with us to enhance the News Releases function to include the following:
·  Ability to add images with captions to the news detail pages.
·  Addition of article categories and authors.
·  Redesign the listing page (http://www.uh.edu/news-events/archive.php) to list stories by year and month using a collapsible function.  A new search feature was also installed, integrated with their Google Mini search appliance.
·  New category listing pages that allows U of H to create a page that only displays stories tagged with certain categories.
·  Modification to the display of the news stories on the homepage.
·  Addition of RSS feeds, including a full listing and an RSS listing for each category (http://www.uh.edu/rss)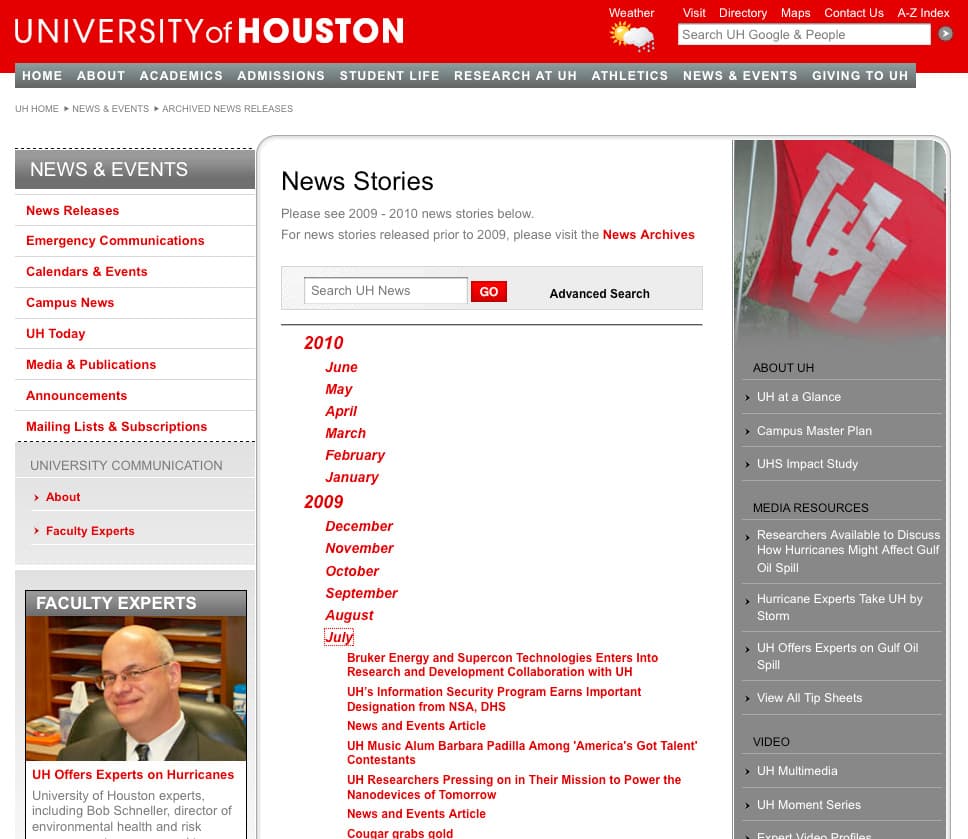 Thanks to Tiffany May for handling this very complicated implementation like a pro, Justin Klingman for the great Project Management and Tracy Dirks also deserves a world of credit for getting the project off the ground.
Sealy Mattress Promotion
Beacon teamed up with G-Force Marketing (here in Greensboro) and Sealy (some of you sleep on them) to build a Sealy Mattress Promotion site, where potential customers can use a dealer locator that we created. The reward for filling out the form (at the moment) is a $300 coupon towards a mattress. The user can search by zip code or city to find a dealer nearest them, and thanks to fancy AJAX, can easily sort the search results.  G-Force can log into an Admin section to maintain the list of dealers and upload their logos.