10 Great WordPress Plugins for Businesses

If your business uses WordPress for blogging or as a content management system, there are some great plugins out there to make life easier. Here are the top 10 WordPress plugins that I love.
1. Headspace 2 - HeadSpace manages meta data and other SEO functions. It allows you to tag your posts, create custom titles and descriptions that help your page ranking.
2. Simple Facebook Connect - This plugin comes with many different options. You can give your visitors the ability to comment using Facebook Identity (with FB avatar support), login with Facebook credentials and register using Facebook. It also allows you to automatically publish new posts to a Facebook Profile or manually publish posts to a Facebook Profile or Application/Fan Page. And if that weren't enough, check out the other available buttons and widgets available through this plugin!
Share button and Shortcode
Connect Button Widget and Shortcode
User Status Widget and Shortcode
Live Stream Widget and Shortcode
Bookmark Widget and Shortcode
Find us on Facebook button Widget and Shortcode
Fan Box Widget
Fan Count Chicklet and Widget
3. TweetMeme - The TweetMeme button plugin simply adds the TweetMeme button to your posts and feed. It keeps a running total of how many times your content is tweeted. (See example on this post!)
4. Akismet - This does a great job of keeping your WordPress site free of spam. When a new comment, trackback, or pingback comes to your site it is Akismet runs hundreds of tests on the comment to determine whether or not it is spam.
5. WP Click-Track - This plugin automatically posts and rewrites links in your content (pages, sidebar, posts, etc.) in order to include a tracking element. It also allows users to create stand alone trackable links that can be included in posts. It also provides extensive reports right within the WordPress dashboard.
6. Category Order - This seems like a simple plugin but there have been countless times where I've needed categories to be in a specific order that wasn't alphabetical or by ID. This little plugin allows you to easily reorder your categories the way you want via drag and drop.
7. Google Analytics for Wordpress - Even though you can use Google Analytics on a WordPress site without this plugin, it's missing a whole lot of features that this plugin offers. This plugin includes:
Google Analytics Custom Variables
Google Analytics API integration
E-Commerce integration
Event tracking
8. cformsII - CformsII is the best form plugin I've used. Its creators are actually the authors of one of my favorite cooking blogs. This amazing plugin has an incredible amount of features and flexibility. You can create detailed custom forms, style them individually and place them in sidebars, posts or pages.
9. AddThis - AddThis is my favorite share plugin because  it automatically optimizes itself for each person who visits your site. AddThis custom fits each menu with the services they'll normally use. This plugin also has an automatic interface for iPhone users. The plugin allows a customized share button to be placed in a sidebar or on each post. AddThis.com also provides detailed analytics so you can see how your content is shared across the Web.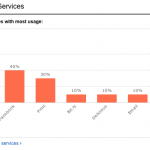 10. YD Recent Posts Widget - This WordPress plugin installs a new sidebar widget displays your most recent blog posts along with images. It is very customizable allowing different settings on the home page and other blog pages.