Wow – WAW! Exciting stuff ahead for Cascade Server and Google Analytics.

I'm trying to be clever and match my daughter's use of acronyms.  Yeah, I made it up.  But the first thing that came to my mind was "Wow!  What a Week!" as I sit here on the plane retracing my steps back from San Fran to Atlanta to Greensboro.
FIRST STOP:  Cascade Server Conference (Atlanta)
Four of us (John Scaramuzzo, Justin Klingman, Brad Henry and myself) jumped in a car on Sunday to head to the first stop, Hannon Hill's Annual Cascade Server Conference in Atlanta.  Those guys really know how to do it.  They put us up w/ great accommodations, provided great information about their current products and got everyone excited about some cool features they have planned for the coming year.  Since many of our clients use Cascade Server, we had the opportunity to chat with some of them that attended the conference (like Silverpop, Los Alamos Labs, Rollins College, University of Hartford).  The Cascade Server CMS product remains strong and well supported as David Cummings, their CEO/President reminded us that Cascade Server has now been out for 7 years and has over 200 clients  (primarily in the Higher Ed vertical).  Pretty amazing for a small company!  It's interesting to note that Beacon is one of the few Partners that have attended every annual user conference.
Brad Henry and I presented right after lunch – Web Marketing Tactics w/ Cascade Server. (I will provide a link to the video once it's available).  Brad was certainly the headliner after I gave a quick overview of Beacon.  As always, Brad shared valuable SEO tactics with the audience – tactics that they could take back, apply and make an immediate impact.  However, the highlight was the results of two SEO Audits that Brad provided live for current Cascade Server customers that were in attendance – Auburn University and Health Network System.  He provided very specific advice on areas that can be improved along with confirming areas that were setup well for SEO.  Of course this sparked a nice Q&A session during the last 10 minutes of the presentation.
I also had the pleasure of having lunch with David Klanac, Hannon Hill's COO, which gave us time to discuss growing our partnership over the coming year to further improve their products and continue providing services to Cascade Server customers.
NEXT STOP:  Google Analytics Certified Partners Conference (Mt. View, CA)
Our presentation ended around 2:30 and Brad & I were off to the airport to catch a flight to San Fran for the Google Analytics Certified Partner (GACP) Conference in Mountain View.  This is Beacon's FOURTH year of attending this conference and as always, it started off with a bang as Avinash Kaushik, Google's Analytics Evangelist, delivered another captivating keynote address pointing out that GA is a critical tool in supporting the business decision process, but not the only one.  The real key…the real way for consultants to make money w/ GA is NOT to "puke" data back to clients, but to truly partner with clients.  Roll your sleeves up.  Show ROI.  Develop strategies to grow online conversions and identify the right key performance indicators to clearly show VALUE!  I encourage you to check out Avinash on YouTube or at www.kaushik.net.
We heard from many of Google's engineers, product managers and marketing staff.  Even more importantly, with ~260 attendees and over 190 GACPs worldwide now, the folks at Google LISTENED to us – about issues we were having with the product, clients, marketing, etc. During one session, we actually lined up and presented desired features and/or changes and the entire group voted on whether each should be a high, medium or low priority.  There are several new development projects underway that will change the landscape further.  Our NDA with Google prevents me from providing any details.  However, I will say the Google Team seems more enthusiastic than ever and they certainly have embraced the GACPs.  The first conference had ~15 attendees; the second, ~30 (which I attended) and now, to see nearly 200 partners is truly amazing.  Momentum is growing.  2011 will see more major advances in GA.
On the personal side, I had to take in a Giants-Dodgers game.  AT&T Park is awesome.  Nothing like sitting in a ballpark next to the bay with a hot dog and a cold one.  It was a blast hearing the packed house chant "Beat LA!  Beat LA!" as the Giants won 2-1.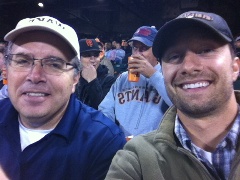 LAST STOP:  Home…which there is no place like!