So You Say You Want A Resolution?

So You Say You Want A Resolution?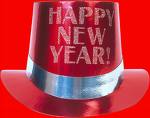 Put on your party hat it's that time of year! Each of us has the chance to make some bold changes for our 2010 marketing assault. I don't know about you, but the recession knocked some proactive sense into my thick head this past year. One thing I want to be sure of – that my website is always updated and at the ready as my main revenue stream, sales person, and evangelist. We trust a lot into this little guy so now is the time to pull your website out of e-purgatory hell.
But where to start?
It seems as if everyday new tools  emerge to enhance website marketing. A plethora of fancy verbs that claim to integrate, simplify, automate, analyze, evangelize, affiliate, estimate, organize and solutionize. (Is that even a word?) Bottom line is that many organizations have a tough time sorting through it all and really know what to use. Here are four tools that are guaranteed to keep you sane and fuel your marketing plan for 2010 and beyond.
SYSTEMIZE
Interprise Suite is a great single application eCommerce system to run a web store and the entire back office with real-time operations. A savvy web pro can install this for you and make your life so much easier.
SPY
Check the competition! (Remember high school?)  Many sites allow you to actually visualize your visitors and enhance your analytics with funky visuals and actionable data, legally, I swear. Spy and find out where people click based upon  top  Referrers. Some also offers  blocking, (this is particularity good for stalkers and ex's) heat maps (very cool, don't ask, go look ) search terms, operating system, browsers, ..well, you get the idea.
BE SEEN
Calling all control freaks! (I say type A..it makes me sound better and less crazy) Build your brand AND grow it with Google AdWords, which allows you to control and customize web ads for your business. These ads are placed on Googles advertising network – set your budget and you'll only pay when people click your ads. This is called Pay Per Click advertising. AdWords ads cleverly pop up along with search results when someone searches Google using one of your keywords. You will be advertising to an audience that's already interested in your business. Imagine that? A build in audience! As a result, your site may rank higher on search engines (SEO marketing) attracting more customers.Plus you get to play with words.
ANALYZE
How can you organize, compare and perform without the numbers behind it all? Google Analytics monitors your site even while you sleep, do the dishes or floss. All while pushing out nifty custom reports that will blow your mind and make you appear way smarter than you really are. Keep track of social media hits in one stop. This does everything but walk the dog . Really it does.
With these  strategies in place you should be able to keep these new years resolutions past Valentines Day for the first time ever. Don't even go there with me about the gym…