Best PPC Call to Action Keywords

What are the best call to action keywords? Of course, the real answer is that you will need to do your own testing to find out what works best for you.  But where to start? What are some good CTA's I can use to begin testing with after I figured out how to write a Google ad? Click here.
Fortunately, MSN has released some helpful data. Back in 2006, a microsoft research team lurked around and came up with a list of keywords that were proven to improve click through rates. They also provided a listing of keywords that did not.
Best Call-to-Action Phrases
Book Now
Reserve
Save Now
Discover your
Sign up Today
Buy Now
Pay Less
Order now
Research
Not so Good Call-to-Action Phrases
Join now
Call us
Join
Borrow
Apply Now
Try
Don't miss
Shop Now
Subscribe
I'm surprised that this information is not talked about more in ppc blogs. MSN has been very forthcoming with their adCenter data. Their blog provides extremely helpful pay-per-click info that is backed up by adCenter research analysis.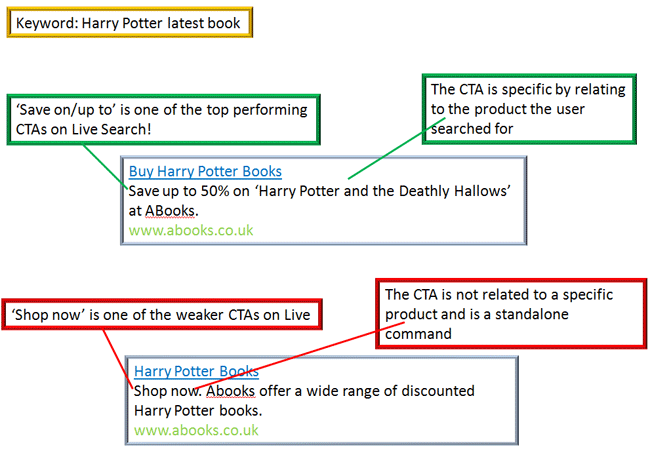 In upcoming days, I'll post about where to place your keywords in your ad text and why are those Amish fireplace ads so successful?